Places to Pray In & Play In
Paver bricks honor the family that is Lutherhaven Ministries, while improving the safety, accessibility, & usability of camp's beautiful natural spaces.
Place an engraved paver brick in the walkways and patios around Lutherhaven's iconic Bell Tower. As generations of campers come to play and pray in this beautiful space, your brick and inscription will be there to greet them. Dedicate your brick to loved ones; thank someone who made a lasting impact on your life; include a favorite Bible, poem, or hymn verse; and leave a Lutherhaven legacy for generations to come.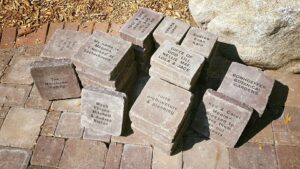 Paver Brick Sizes & Prices
9″x 9″ – $325
6″x 9″ – $225
6″x 6" – $125