Friends of Lutherhaven Giving Tree

The Lutherhaven Giving Tree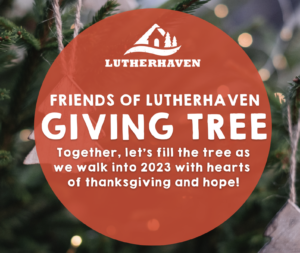 For every donation to Lutherhaven Ministries during the month of December, we'll put an ornament with your name or chosen dedication on the Friends of Lutherhaven Giving Tree at Camp Lutherhaven!
Many donors have discovered the benefits of making a gift using a Qualified Charitable Distribution (QCD) from their Individual Retirement Account (IRA). If you are 70½ or older, you may be interested in this way to make a significant gift while lowering the income and taxes from your RMD.  Please consult with your IRA administrator or call our office for details. (208) 667-3459
Thank you for prayerfully considering Lutherhaven Ministries for your tax deductible year-end giving; for supporting Lutherhaven in welcoming everyone to encounter creation, create community and commune with Christ.
Together, let's fill the tree as we walk into 2023 with hearts of thanksgiving and hope.
Donate to Lutherhaven and customize your ornament below!
Have Questions?
For more information about giving or to schedule a visit to your home, group or congregation, contact:
Sarah Jones, Donor Engagement and Events Manager
(208) 667-3459 ext. 122
Email: sarah@lutherhaven.com