Calendar

Shoshone Mountain Retreat Family Ranch Camp
August 12, 2022

-

August 14, 2022

$105 – $165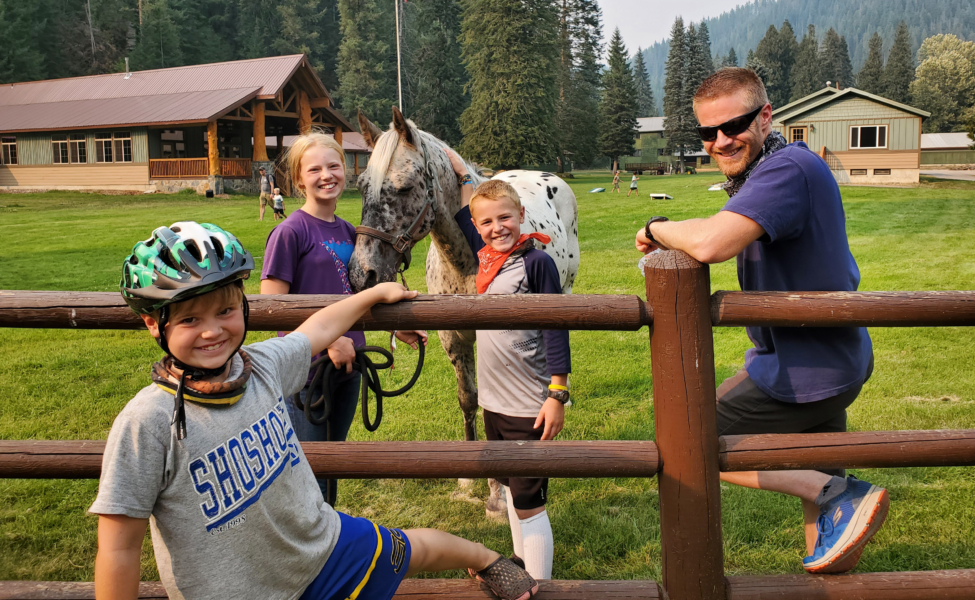 Family Ranch Camp Program
Join us for our new family camp up the river at Shoshone Mountain Retreat! Family Ranch Camp is for families of all shapes and sizes, couples, friends, and anyone looking to get away from it all for a weekend of fun!
We provide the lodging, meals, and programming, so bring your friends and join in the Shoshone Mountain Retreat and Ranch experience! If choosing a tent or RV lodging option, you must bring your own tent or RV.
Meals include:
6 meals (Friday Dinner – Sunday Lunch BBQ)
Activities include:
Horseback Trail Rides
Campfire and Worship
Shoshone Creek Exploration
Float the Coeur d'Alene River
Rock climb and high ropes
Stargazing. The stars at night are big and bright!
Rock skipping
Hiking, archery, arts and crafts, recreation and more
Kids Camp Time: Kids hang with other campers their age under the supervision of an amazing trained & certified camp staff. Due to social distancing guidelines, this part of our program may run and look slightly different than in the past.
Adults Only Camp Time: Happens at the same time that Kids Camp does. Take a walk, read a book, or do a camp activity.
Cost
$165 Per Adult or Teen
$115 Per Youth age 4-12
Children under 4 are free!
Tent (Bring your own Tent)
$155 Per Adult or Teen
$105 Per Youth age 4-12
Children under 4 are free!
RV Option (Bring your own RV)
$155 Per Adult or Teen
$105 Per Youth age 4-12
$50 non-refundable deposit required
Shoshone Lodging and Camping Includes Shared Bathrooms:
Bathrooms are shared with other guests and cleaned and disinfected according to approved protocols and a diligent staff cleaning schedule. Disinfectant, handsoap, and hand sanitizer is available in bathrooms for guest use.
Packing
Bedding/Sleeping bag
Toiletries
Towels
Seasonal clothes for indoors and outside!
Cozy pajamas
Face masks, except for young children
Hand sanitizer
Flashlight
Water bottles
Bible
Good shoes or boots for walking
Water shoes
Optional: Camera to remember your weekend
Optional: Money for Trading Post & Lakeview Lattes
Optional: Camp chairs for lounging at the waterfront
Optional: Life Jackets (Lutherhaven also has extras to borrow for the weekend)