Calendar

Shoshone Creek Ranch Camp : 5th-10th Grade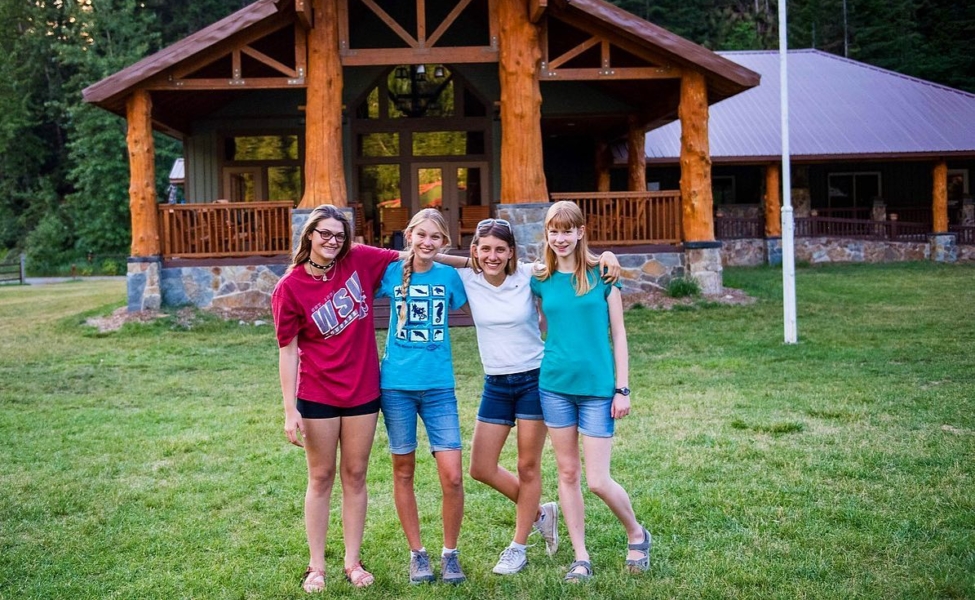 Shoshone Creek Ranch Camp Program
The perfect week for youth who love horses and riding, or have no horse experience but want to!
Located at our western guest ranch in a gorgeous, riverside mountain setting at Shoshone Mountain Retreat! Develop your horse skills in the arena and on trails at Shoshone Creek Ranch, our rustic mountain guest ranch in a gorgeous creek-side setting. Daily horse time, plus popular camp activities like splashing in the swimmin' hole, the 40-foot natural climbing wall, tubing the river, crafts, campfire cooking, worship & Bible study. Operated under an Outfitter & Guides Permit from the Idaho Panhandle National Forests.
The program includes care and knowledge of horses and tack with a focus on safety, grooming, horse & ranch chores, saddling, leading, mounting and daily riding.
Ranch camp takes a maximum of 16 campers per week, so register with your friends early!
All weeks: All skill levels. Riders are evaluated at camp by our professional wranglers and divided into age and skill level groups.
Rider Qualifications
Campers must be entering 5th – 10th grade or be 9 years or older.
Riders must be at least 4'6" tall in order to have adequate control over a horse.
Riders must be able to mount and dismount a horse without assistance and meet the rigors of riding on uneven terrain for three miles.
Participants must be able to understand English and follow visual or verbal commands.
Participants must be able to withstand summer exposure to the outdoors, including hot, cold or wet weather.
Campers who are overweight or have physical disabilities, arthritis, back or neck pain, decreased motor skills or other physical issues may have difficulty balancing, staying seated, holding the reins or controlling a horse.
Dates Offered
5th-7th Grade Girls Weeks
June 18-23, 2023
July 2-7, 2023
July 16-21, 2023
7th-10th Grade Girls Weeks
June 25-30, 2023
July 9-14, 2023
July 30-August 4, 2023
Boys & Girls Weeks
7th-10th Graders: July 23-28, 2023
5th-7th Graders: August 6-11, 2023
Location
Cost
$604 **Lutherhaven Ministries programs and camps are offered at a reduced rate below their true cost. Generous donors make this possible! Need Campership information?  Learn more about camperships. Want to help send kids to camp?  Give the gift of camp.
Financial Assistance
Need help paying for camp? Learn more about financial assistance and camperships.
Questions?
Contact Hannah by phone at (208) 667-3459 ext. 123 or by email at summercamp@lutherhaven.com